LAND SECUREMENT FUND
We are always working to be ready for the next land purchase opportunity. 
Our current goal is to protect the Puntledge Forest.

The Puntledge Forest.
This 100-hectare (247-acre) area runs on both sides of the Puntledge River on land owned by BC Hydro and has a well-used recreation trail system.
It is nestled between the Comox Lake Bluffs Ecological Reserve and Nymph Falls Nature Park. Though BC Hydro owns the land, the trees are owned separately by way of a timber reservation owned by Comox Timber Limited and managed on their behalf by Manulife Investment Management Timberlands and Agriculture, Inc.
The area includes a 120-year-old second growth forest and is an example of a biologically rich, naturally regenerated forest. The site also includes habitat for the endangered Puntledge River summer Chinook. Purchasing the timber reservation will protect about 10 critically imperiled ecological communities and some 30 species at risk. 
Notice was given in 2020 that the forest was going to be logged. The community has been rallying to save the forest ever since. Currently, Manulife has deferred harvesting the site while CVLT works to raise the funds to purchase the timber reservation.
This project is being undertaken with the financial support of:
Ce projet a été réalisé avec l'appui financier de:

Another opportunity is Lower Perseverance Creek near Comox Lake.
The Cumberland Community Forest Society (CCFS) has been raising funds to protect and expand the area of the Cumberland Community Forest for many years, and the Lower Perseverance Creek's 17.5 hectares (43 acres) are its latest priority. The area forms part of an ecological corridor that links Perseverance Creek to Comox Lake.
The two lower reaches of the creek have been identified as vital for habitat restoration. It serves as a home to bears, cougars, bats, and salmon.
Stay tuned for more information about this pending purchase!
Where are these parcels in relation to one another, in the Comox Valley?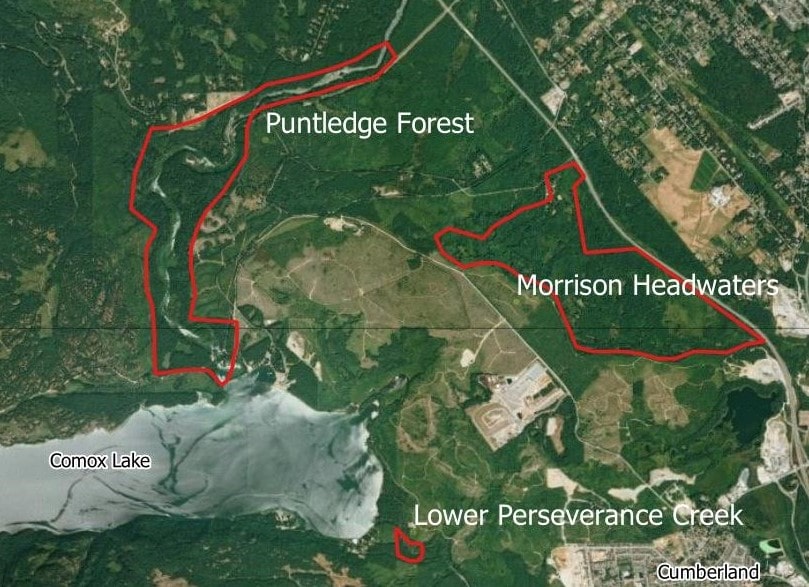 These projects are being undertaken with the financial support of:
Ce projet a été réalisé avec l'appui financier de: