Healthy soil holds billions of microscopic organisms. Just one teaspoon of healthy soil has more microbes than there are people on Earth. Soil microbes are constantly feeding on organic matter. So, the more your undies break down when you bury them, the healthier your soil is.
JOIN IN!
Make your own video, tag us and share!
@CVConservation on Facebook, @cvlandtrust on Instagram
It takes 60 days to soil your undies… that's a big job the soil is doing.
Start today! We'd love to see your video and hear why understanding the health of your soil matters to you! Tag us to share. If you want to get fancy, download our brandmarks to add to your photos/videos! (see below)
Support
our Natural Climate Solutions today!
Our planet's future has reached a critical moment: we have exceeded critical thresholds due to climate change. 
Science shows that natural climate solutions based on the conservation, restoration, and management of forests, grasslands, and wetlands can deliver up to a third of the global emission reductions needed by 2030. Protecting our natural areas is the most important thing we can do to mitigate and adapt to the consequences of climate change.
That's why the Comox Valley Land Trust created its Natural Climate Solutions Fund.
When you contribute to the fund, you are supporting local conservation projects and programs that provide natural climate solutions in the Comox Valley. We use your donations to purchase and protect natural areas right here in your backyard. 
Carbon sequestration is key to natural climate solutions. The most effective carbon sequestration happens when trees are allowed to grow to maturity and remain as protected forests capturing and storing carbon for hundreds of years. Through our conservation covenants and land purchases, CVLT is protecting hundreds of acres of mature forests in perpetuity. We also care for ecologically sensitive wetlands, which store carbon in their soil and biomass. 
Whether you are looking to offset your personal greenhouse gas emissions generated by flying, driving, or heating your home, or if your motivation is to protect our planet, CVLT's Natural Climate Solutions Fund is a great choice. 
CVLT and Natural Climate Solutions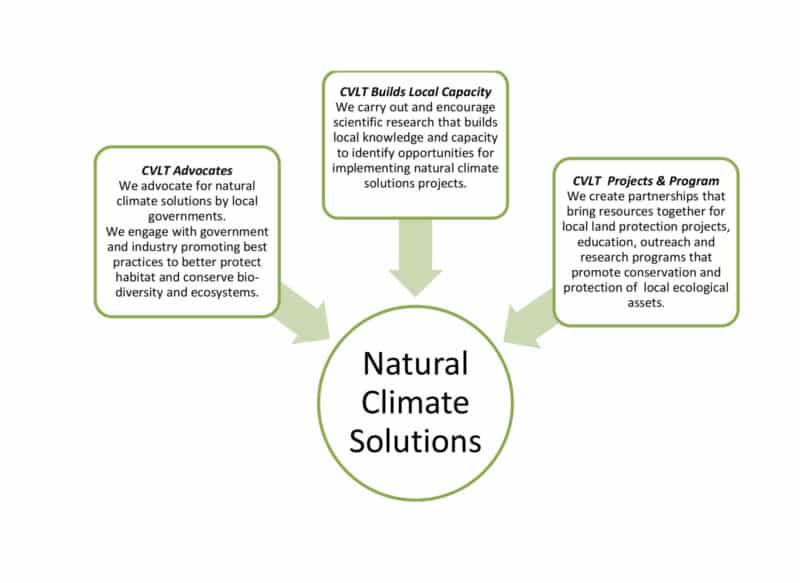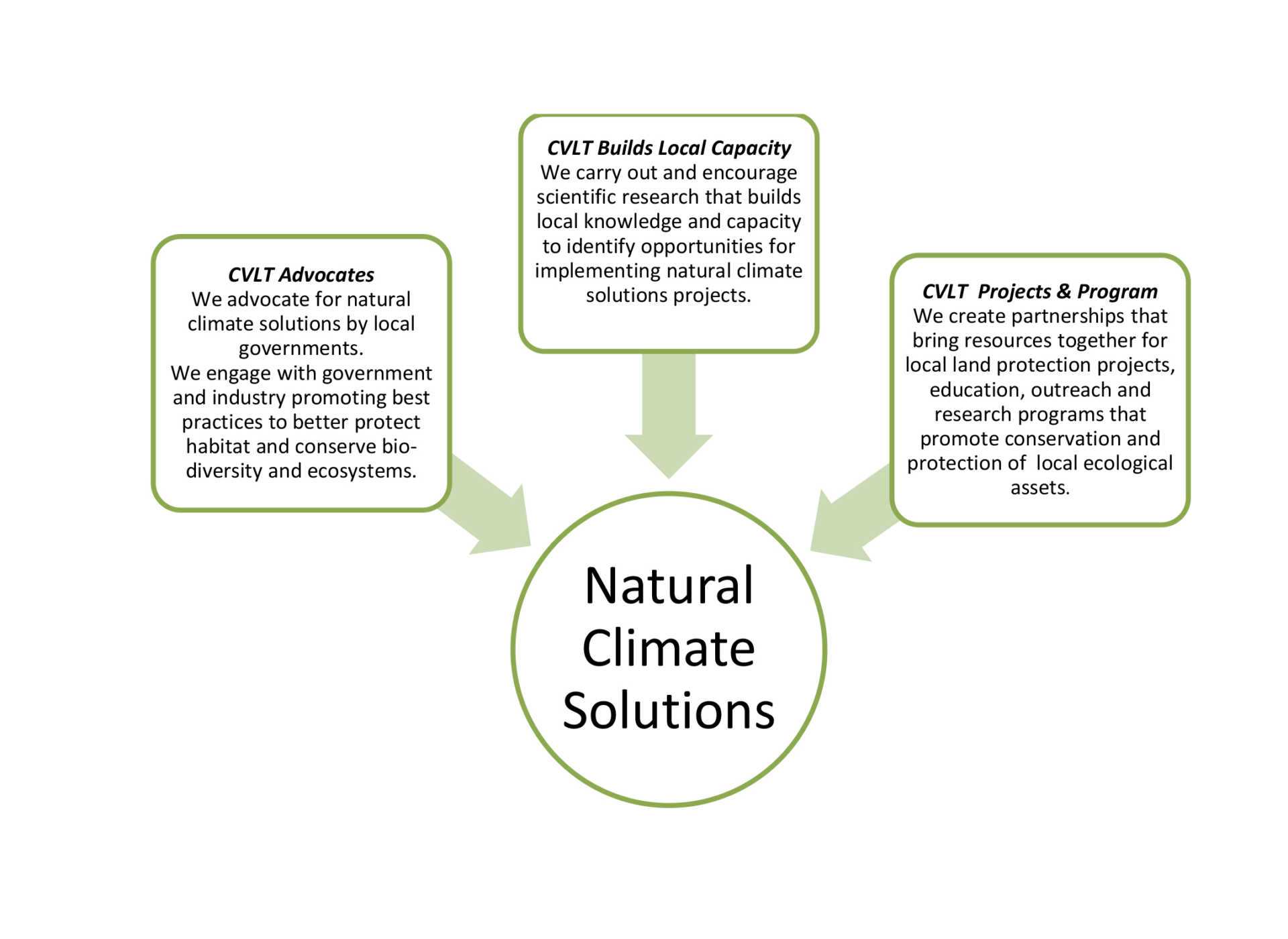 The Comox Valley Natural Climate Solution Fund supports these CVLT projects and programs: 
Our Land Protection Program protects hundreds of hectares of forest and wetland ecosystems conserving local biodiversity and habitats.

We identify, protect, and monitor lands on which we have purchased or hold conservation covenants. This ensures natural areas maintain and grow their ability to sequester carbon in perpetuity. 

Through our Comox Valley Conservation Partnership program, we work with over 20 local groups to support their projects and provide a voice for conservation of our natural areas. 

CVLT works with local governments and industry to assess land development projects and promote best land use practices that protect natural assets and mitigate climate change impacts.
"Nature is an incredibly powerful ally in battling climate change. Enacting natural climate solutions and protecting the Comox Valley's forests and wetlands contributes to reducing atmospheric CO2. It also helps our community's ability to manage climate change impacts such as increased flooding and forest fires. I encourage you to think globally and act locally by supporting our Comox Valley Natural Climate Solutions Fund."