Comox Valley Land Trust and Cumberland Community Forest Society Announce Major Donation From Courtenay And District Fish And Game Protective Association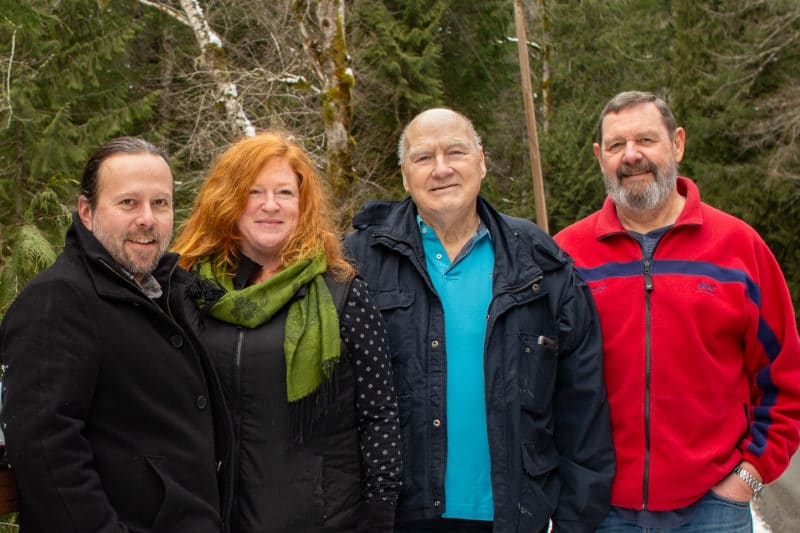 (Comox Valley, BC) The Comox Valley Land Trust (CVLT) and the Cumberland Community Forest Society (CCFS) are pleased to announce a generous donation of $50,000 from the Courtenay and District Fish and Game Protective Association (CDFGPA) in support of their Morrison Headwaters Nature Preserve and Perseverance Creek conservation projects.
The CDFGPA actively undertakes programs that benefit Comox Valley communities and the local economy, through protecting and enhancing fish and game resources and their habitats.
"We are grateful for this opportunity to demonstrate publicly what we are all about. The Morrison Headwaters and Perseverance Creek conservation projects align with our desire to fulfill our mission of being a full partner in the wellbeing of the wildlife and their habitat," said Fred Bates, CDFGPA President.
Of the donation, $25,000 will go towards the Morrison Headwaters Nature Preserve, an area responsible for the largest production of Coho and Pink salmon on the Puntledge River system. The CVLT has until March 31st, 2019 to raise the required funds to purchase 22 hectares of the Morrison Headwaters. Thanks to the generous contribution of the CDFGPA and local community donors and other partners, 90 per cent of their total funding goal has been raised.
"We want to extend our deep gratitude to the CDFGPA for this generous donation," expressed Tim Ennis, 
CVLT
 Executive Director. "This gift demonstrates support from the nearly 2000 members of the club."
The other $25,000 will go towards the CCFS Perseverance Creek Conservation Project. CCFS is currently working toward the purchase and protection of 91.4 hectares (226 acres) of forest along Perseverance Creek, a tributary that feeds Comox Lake and the drinking water supply for the Comox Valley. This historically and ecologically rich area is a critical habitat corridor filled with riparian areas, wetlands and salmon spawning channels. It will connect to two previous forest purchases by the CCFS (in 2005 and 2016) and the Village of Cumberland's Coal Creek Historic Park.
"We are incredibly grateful to the CDFGPA for their generosity and conservation leadership. The Perseverance Creek Project impacts not only Cumberland but the wider Comox Valley, protecting a key part of our shared watershed. This area has been identified by both the CVLT and our community as a top priority for protection and we are excited by the collaboration that is moving us toward our goal." stated Meaghan Cursons, CCFS Executive Director.
"These two projects focus on the protection of over 110 hectares of critical habitat for fish and wildlife in the Comox Valley and are a good fit for our Association's goals of conserving natural resources and restoring fish and wildlife habitat" explained Wayne White, CDFGPA Conservation Committee Chair.
"Working together in partnerships such as this presents tremendous new opportunities to advance our mutual goals of protecting fish and wildlife habitat for future generations of the Comox Valley," stated Tim Ennis.
HELP US PRESERVE THE BEAUTY OF THE COMOX VALLEY
We always welcome new people to direct and support our work. We are particularly looking for new directors who have knowledge and experience with fundraising, marketing, law and land protection, local government and urban sustainability. Everyone is welcome and encouraged to become involved.