The CVLT hires local design company to create a fresh, new look for its organization
(Comox Valley, BC) The Comox Valley Land Trust (CVLT) is pleased to announce the release of its new and inclusive logo that more accurately reflects the current mission and goals of the organization.
"The logo rebrand is consistent with the Comox Valley Land Trust's strategic objectives. As part of our initiative to grow and thrive as an organization in the region, you will see even more exciting developments in the near future," said Tim Ennis, Executive Director for Comox Valley Land Trust. "As for the logo, we were happy to acquire the services of local design company, Caribou Creative, which successfully captured the essence and future direction of the Comox Valley Land Trust."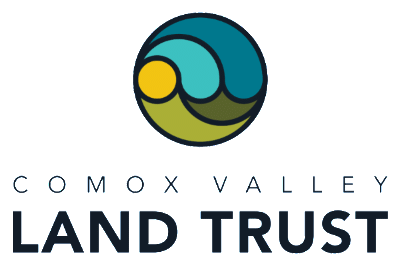 The new logo features an abstract icon in a circular shape. The colours are intentional with blue represented as the sky and water; yellow as the sun and green as the land and trees – all balanced in harmony of one another.
Watch for this logo on new materials and future promotions from the Comox Valley Land Trust.
HELP US PRESERVE THE BEAUTY OF THE COMOX VALLEY
We always welcome new people to direct and support our work. We are particularly looking for new directors who have knowledge and experience with fundraising, marketing, law and land protection, local government and urban sustainability. Everyone is welcome and encouraged to become involved.